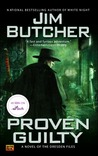 Proven Guilty
by
Jim Butcher
My rating:
4 of 5 stars
Jacket Blurb:
There's no love lost between Harry Dresden, the only wizard in the Chicago phone book, and the White Council of Wizards, who find him brash and undisciplined. But war with the vampires has thinned their ranks, so the Council has drafted Harry as a Warden and assigned him to look into rumors of black magic in the Windy City.

As Harry adjusts to his new role, another problem arrives in the form of the tattooed and pierced daughter of an old friend, all grown-up and already in trouble. Her boyfriend is the only suspect in what looks like a supernatural assault straight out of a horror film. Malevolent entities that feed on fear are loose in Chicago, but it's all in a day's work for a wizard, his faithful dog, and a talking skull named Bob...
Short review: Harry faces impossible odds, fights dark nasties, is beaten up repeatedly and wins. Again.
Long review: Harry faces impossible odds, fights numerous evil nasties that make orcs look nice, is repeatedly beaten within an inch of his life, has a lemonade with the Summer Lady and her Knight, anguishes over the morality of using his powers, goes places he never thought to see, realizes he has friends in lots of places, stands up for what he believes in and - ultimately - wins. Again.
Seriously, I'm not spoiling anything here. If you've read Books 1-7 you know what I'm talking about. If you haven't read books 1-7 (and you don't have to since Butcher does bring the new reader up to speed in every. single. book in almost excruciating detail) you will soon understand what I'm talking about.
That being said, I think Proven Guilty is the most cohesive Dresden book yet. The plot mechanics were simpler allowing the characters to really shine. Harry brought in his friends to help so it was less of a Harry vs the Universe that was prevalent in past books. It was engaging - things happened to the characters and it mattered - I
cared
. I could empathize with this one on more than a my-brain-on-sugar level. I was rooting for the good guys, booing the bad and plugging the iPod in every time I had the chance. If this had been a paper copy, I probably would have read it straight through.
Yes, this one was that good. Recommended.
View all my reviews