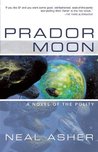 Prador Moon
by
Neal Asher
My rating:
4 of 5 stars
Jacket Blurb:
The Polity Collective is the pinnacle of space-faring civilization. Academic and insightful, its dominion stretches from Earth Central into the unfathomable reaches of the galactic void. But when the Polity finally encounters alien life in the form of massive, hostile, crab-like carnivores known as the Prador, there can be only one outcome — total warfare! Starships clash, planets fall, and space stations are overrun, but for Jebel Krong and Moria Salem, two unlikely heroes trapped at the center of the action, this war is far more than a mere clash of cultures, far more than technology versus brute force... this war is persona.
January's book group selection. Book one in the Polity series.
I've already read Gridlinked, Line of the Polity, Brass Man, and Polity Agent, which are in the Agent Cormac series. Polity comes before those in a loose timeline.
This book starts off gripping, becomes thoroughly engaging, and is a lot like a twisty windy covered water slide: you know you're going somewhere fast, it's intense, and will end with a big Splash!
For starters, the Prador were some of the creepiest, nastiest aliens I have read about in a long time. I loved that they were crabby-things with a completely different social structure, drives and desires than your basic "humanoid" alien.
The plot was layered: the main plot - the Prador want to take over the Polity Universe and the humans and human worlds (for food for themselves and possible slaves if they can get the biology figured out). The anti-AI movement feels anything would be better than being subservient or ruled by the AI and are helping the Prador. We have two characters who were giving non-Polity approved augmentations with incredible computing power: a protagonist and an antagonist. Our hero, Jebel, having lost his love in the first attack, has become a Prador killing machine, and when everything comes down to the runcible gate at Trajeen, it becomes very interesting indeed.
I really don't have much in the way for criticism, actually. This is the kind of book I really like to read: good aliens, no love story, good pacing, interesting future technology that wasn't explained in excruciating detail, and can be read as a stand alone book. The plot and characters were well thought out and the world building solid and fascinating.
This is the kind of book that would be great for traveling because it will keep you engaged during your two hour wait at the airport. Or, keep up well past your bedtime.
Highly recommended.
View all my reviews