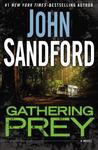 Gathering Prey
by
John Sandford
My rating:
4 of 5 stars
Jacket Blurb:
They call them Travelers. They move from city to city, panhandling, committing no crimes—they just like to stay on the move. And now somebody is killing them.

Lucas Davenport's adopted daughter, Letty, is home from college when she gets a phone call from a woman Traveler she'd befriended in San Francisco. The woman thinks somebody's killing her friends, she's afraid she knows who it is, and now her male companion has gone missing. She's hiding out in North Dakota, and she doesn't know what to do.

Letty tells Lucas she's going to get her, and, though he suspects Letty's getting played, he volunteers to go with her. When he hears the woman's story, though, he begins to think there's something in it. Little does he know. In the days to come, he will embark upon an odyssey through a subculture unlike any he has ever seen, a trip that will not only put the two of them in danger—but just may change the course of his life.
"Read" as an audiobook.
Gathering Prey starts strong, stays strong, and ends strong. The items below are my reflective of my personality quirks more than anything with the book.
I don't care for Lettie and I haven't since she was introduced. She plays a predominant role in this book, and I noticed there was speculation that the author might do a spin-off series featuring her. Now, she did provide a good contrast between her life of privilege - that of driving a Mercedes, the Neimann Marcus jeans, the unlimited American Express at REI - and the life of Skye, the life of a traveler, where you are busking for your next meal and sleeping in cars.
If you are on the squeamish side, this book begins with a rather major murder scene that sets the tone for the atrocities that Pilate and his Disciples participate in. This particular murder had me wincing a bit.
Remember, I'm 'reading' this as an audio book. I got fidgety about 2/3 of the way through, when Davenport is in the Upper Peninsula ('da Uoo Pee' for us locals). The book was building up to this point, the multi-state man hunt is starting to formulate and it was becoming a cat and mouse game between Davenport and Pilate. As I popped in disk #7 - with two more disks to go - I was getting to a serious, "Let's get on with it already!" attitude. The chase scene was more drawn out than I cared for.
The rather drawn out ending also felt a bit like a western of old with the big shoot out - the circle of wagons were drawn (in this case cars), everyone is hunkered down with guns in their homes (or the bar, with beer and brats), and now it's down to who has the most ammo.
I also found the foreshadowing rather obvious, and it was a matter of how long it would take for the anticipated event to unfold.
What wasn't lacking in this book was the wry wit, the dry sense of humor, the witty comments. There was just enough to offset the seriousness nature of the man hunt and the frustration against the bureaucracy. Davenports "fuck it" attitude is showing through and I almost like this laid back, "I don't give a shit" attitude.
Definitely recommended if you've read the first twenty-four books. Don't start with this one if you're new to the series.
View all my reviews